Painting and Roofing Company in Honolulu, Hawaii
David's is a full service contracting company, specializing in Hawaii roofing and painting, Our high quality contracting services include design and installation.
Why Choose David's Custom Roofing & Painting?
we design and build to suit your needs
we are committed to excellence in service and delivery of your product
we stand behind every job we do
we use only the best materials to ensure your safety & satisfaction
we are an award winning Hawaii roofing and painting company

Your Custom Roofing & Painting Experts.
We specialize in residential, commercial and industrial painting & roofing services. Our locally owned & operated company has served the needs of homes and businesses on Oahu and throughout Hawaii since 1980.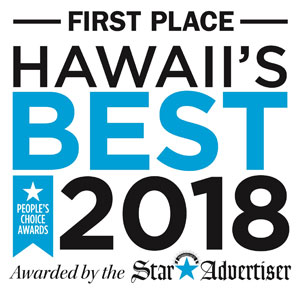 What sets us apart as a Hawaii contractor?
Whether you need residential roofers or commercial painters, there are many reasons to choose our company, including our being recognized with 1st Place in Hawaii's Best Star Advertiser People's Choice Awards. Our expert roofers and painters are highly trained, experienced, and committed to excellence, regardless of the size of the job. We use only the best quality materials and products from nationally recognized brands to ensure quality and we stand behind every job.
Our roofing & painting contractors offer a broad range of services for local homeowners, businesses, and industrial facilities. If you are having a problem with your roof, we provide roof repair for all roofing systems and materials. Need a new roof? Give us a call for reliable new roof installation from our expert roof installers. In addition, we offer painting and general contracting services, please give us a call for more information.
You can read more about our services, testimonials, and view pictures of some of our projects on our website. Please give us a call at (808) 833-1633, or fill out the "Request An Estimate" form on our website to get more information on roofing, painting or general contracting work in Honolulu or the other areas on Oahu, and remember, "Once A Customer, Always A Friend!"

Voted the Best Roofing and Painting Company in Hawaii!
Customer Satisfaction is our number one goal! Mahalo Hawaii for making us #1!