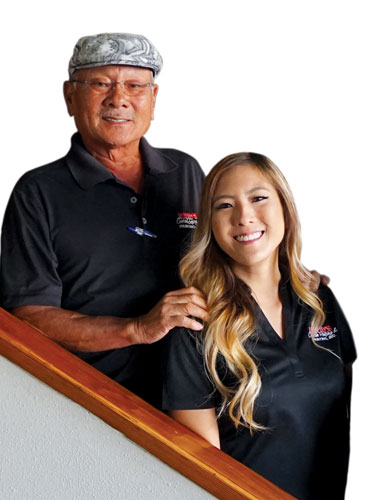 ABOUT DAVID'S CUSTOM ROOFING & PAINTING INC
David Leong has been in the roofing business since 1971. He founded David's Custom Roofing, Inc. in 1980 and has been in business since.
Known in Hawaii as one of the island's leading roofing companies, David has gained recognition and respect among our residents and his industry peers.
He has since expanded his business to include Painting in 2003 and General Contracting in 2007. Now established as David's Custom Roofing & Painting, Inc., along with his daughter Davelyn Leong Martin, President of the company, we are able to accommodate all of your building needs.
David's Custom Roofing & Painting, Inc., is dedicated to quality installation and unsurpassed customer service that is second to none. David Leong & Davelyn Leong Martin stand behind their commitments to you, our valued customers and friends, and the reputation of their company.

Voted the Best Roofing and Painting Company in Hawaii!
Customer Satisfaction is our number one goal! Mahalo Hawaii for making us #1!